✨ Ostinato 1.3 is now available! - Get it now!
Whether you are testing circuit bandwidth, storm control, L2/L3 forwarding, QOS, load balancing, SD WAN application policies, multicast snooping or any of the other myriad things network engineers do during their day, you need to test with traffic - in lab or production.
Why test with traffic?
Imagine,
ACL rules not working as expected
Improper load balancing because of a faulty ECMP config
Multicast traffic not reaching some parts of your network
Perplexing packet drops that look like an MTU problem
…
If you don't test with traffic, you may end up with unexpected behavior, network problems or (gasp) an outage!
However, not just any traffic. Each scenario is different and requires a specific type of packet and traffic flow. How do you create that specific traffic flow to proactively verify your configuration actually works and prevent any mishaps?
I have the (networking) knowledge and expertise. I know what kind of traffic I need to verify the configuration. All I needed was a tool to generate that traffic …
The networking industry has the gold-standard Ixia/Spirent traffic generator hardware. You may even have used them at work. If you have, do you get access to them at all times?
What about for your home lab?
You need your very own traffic generator
Ostinato is a versatile packet crafter, pcap player and traffic generator with an intuitive GUI.
… not only does Ostinato generate all the different types of traffic, but I can run it wherever I want - on my laptop for field debug, on a Linux server in the lab and even in my virtual labs!
You can -
Craft and send packets of various protocols
Change any packet field of any protocol to any value
Send traffic at the rate you want
Choose the packet size
Send multiple traffic streams - sequentially or mixed together
… and much more!
Ostinato is Wireshark in reverse and the perfect companion tool to Wireshark.
For more demos, checkout Sharkfest 2020 videos.
Do more with add-ons
The newly launched Ostinato Turbo Transmit add-on brings 10G, 25G, 40G line rate traffic generation capabilities. See 📈 Turbo Performance.
Use the Ostinato Python API add-on for automation and scripting. The Ostinato GUI is built using the API - so anything you can do with the GUI, you can automate with the API.
Ready to add a traffic generator to your networking toolbox?
Yes, I want my own traffic generator
Testimonials
Thousands of network engineers are using Ostinato to verify and troubleshoot their networks. Here's what they have to say -
"Packets of Death" - Ostinato turns you into a packet ninja. There's literally no limit to what you can do with it. Without Ostinato I could have never gotten beyond this point
Kristian Kielhofner (Creator, AstLinux)
… know that real people are doing real work with your software!! Especially right now in the pandemic, your software is a true lifesaver for me and others
Scott Vandiver (Sr. Director, ADVA Optical Networking)
I was migrating QOS settings from Cisco routers to FortiGate Firewalls and needed to make sure priority queuing and WRED was working fine. Ostinato support got back to me within a day with well written instructions on how to perform my task of multiple traffic flows with multiple DSCP markings. Overall this is a tool that every network engineer should have. I rank it up there with SecureCRT. The price is great, and I only scratched the surface of the tool's total functionality
Derrick Smith (CCNP, NSE7)
I used Ostinato to generate a lot of background network traffic, while replaying a known malicious PCAP file to test if our software could keep up [and cope]. Ostinato was an amazing piece of software and not only incredibly helpful in my project but very easy to use and modify
Samuel Caroll (Software Engineer, Active Countermeasures)
Screenshots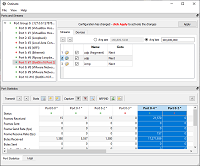 News
October 2023
February 2023
January 2023
Generate 10/25/40Gbps line rate traffic - Go Turbo! 🚀