Up to 55% Off on Ostinato Bundles - Get it now!
Ostinato is a packet generator and network traffic generator with an intuitive GUI and support for network automation using a powerful Python API. Craft and send packets of several streams with different protocols at different rates. Think of it as Wireshark in Reverse.
Ostinato aims to provide a traffic generator and network testing tool for every network engineer and developer - something not possible today with existing commercial network test equipment. With the right tool, network developers and engineers can do their jobs better and improve the quality of networking products.
Testimonials
…thanks for developing ostinato: this was a really missing piece in the open-source networking world - Luca Deri (ntop.org) [Email]
Before I go any further I need to give another shout out to an excellent open source piece of software I found. Ostinato turns you into a packet ninja. There's literally no limit to what you can do with it. Without Ostinato I could have never gotten beyond this point - Kristian Kielhofner ("Packets of Death" AstLinux, Star2Star) [Blog]
Napatech supports a number of open-source software applications that can also help customers accelerate their development … Ostinato for Traffic Generation [Press Release]
Ostinato is more stable [than similar tools] and has a more complete roadmap [Blog]
Screenshots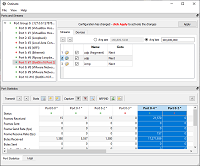 News
June 2020
December 2019
Ostinato 1.0 packages available for 🍓 Raspberry Pi (Raspbian Buster) - works on all models RPi 1 to 4
November 2019
Ostinato 1.0 Appliance Bundle available as a limited time special for 🦃 Thanksgiving
October 2019
Ostinato 1.0 packages available for CentOS/RedHat 8.x
Ostinato 1.0 packages available for Ubuntu 19.04, 19.10
Forum
Questions/suggestions/feedback? Post to the Ostinato forum (Your question may already be answered - please search the forum before posting a new question)
Up to 55% Off on Ostinato Bundles - Get it now!