We are giving away Cisco VIRL licenses! Scroll down for more information
Introduction
Ostinato is a packet crafter, network traffic generator and analyzer with a friendly GUI and powerful Python API for network test automation. Craft and send packets of several streams with different protocols at different rates. It is "Wireshark in Reverse".
Ostinato aims to provide a traffic generator and tester tool for every network engineer and developer - something not possible today with the existing commercial solutions. With the right tool, network developers and engineers can do their jobs better and improve the quality of networking products.
Features
FLOSS - Free, Libre, Open-Source Software
Cross-Platform - runs on Windows, Linux, BSD and Mac OS X
Useful for both network load testing and functional testing
Use via GUI or Python API
Support for the most common standard protocols

Ethernet/802.3/LLC SNAP
VLAN (with QinQ)
ARP, IPv4, IPv6, IP-in-IP a.k.a IP Tunnelling (6over4, 4over6, 4over4, 6over6)
TCP, UDP, ICMPv4, ICMPv6, IGMP, MLD
Any text based protocol (HTTP, SIP, RTSP, NNTP etc.)
More protocols in the works …

Set a value for any field of any protocol
Vary packet fields across packets at run time e.g. changing IP/MAC addresses
User provided Hex Dump - specify some or all bytes in a packet
User defined script to substitute for an unimplemented protocol (EXPERIMENTAL)
Stack protocols in any arbitrary order
Create and configure multiple streams
Configure stream rates, bursts, no. of packets
One agent can control and configure multiple ports on multiple computers generating traffic
Multiple agents can share control over a single port on a single computer
Exclusive control of a port to prevent the OS from sending stray packets provides a controlled testing environment (Windows only)
Statistics Window shows port receive/transmit statistics and rates for realtime network monitoring and measurement
Capture network traffic (needs Wireshark to view the captured packets)
Open and edit PCAP files, replay and save back
Framework to add new protocol builders easily
Network Device Emulation (ARP and ICMP) for multiple IP hosts to aid in network traffic simulation
License
Ostinato is licensed under GNU GPLv3
Screenshots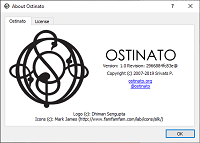 News
June 2016
March 2016
January 2016
Winners of the VIRL Giveaway announced - Nolan and Anuj T
Testimonials
…thanks for developing ostinato: this was a really missing piece in the open-source networking world - Luca Deri (ntop.org) [Email]
Before I go any further I need to give another shout out to an excellent open source piece of software I found. Ostinato turns you into a packet ninja. There's literally no limit to what you can do with it. Without Ostinato I could have never gotten beyond this point - Kristian Kielhofner ("Packets of Death" AstLinux, Star2Star) [Blog]
Napatech supports a number of open-source software applications that can also help customers accelerate their development … Ostinato for Traffic Generation [Press Release]
Ostinato is more stable [than similar tools] and has a more complete roadmap [Blog]
Giveaway - free VIRL
We are giving away Cisco VIRL licenses! Enter the raffle below for a chance to get one -
See VIRL Giveaway 2015 Winners
Thanks to Cisco VIRL for the licenses and Rafflecopter for the giveaway infrastructure.
Mailing List
For queries/bugs/feedback/suggestions, send an email to the mailing list - ostinato@googlegroups.com